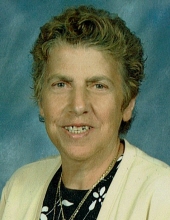 Obituary for Joanna A. Savvas
Joanna A. Savvas, 78, of Papillion, NE. passed away peacefully on Friday, May 15, 2020, at Papillion Manor Nursing Home.

Joanna was a kind soul who spent her life taking care of everyone she met and was close to. She would take her nieces, nephews and any of their friends to the park and the pool in the summer. She was always there to lend a hand when someone needed it. Her love of bingo was one of the only things that she saved for herself and that was only a couple hours a week. Joanna was a wonderful woman who did not value material things. Everything that she had she tried to give away. She was a very selfless person who will be very much missed and the world is a better place for her generosity.

Joanna was preceded in death by her parents Angelo and Stella Frangoulis; siblings Minas, Penelope (Jenkins) and James Frangoulis.

She is survived by her sister-in-law Lucy Frangoulis; nephews Angelo (Theresa) and Louis Frangoulis; Great nephews and nieces Johnathon (Ashley) Sudik, Taylor (Diana Oviedo-Ortiz) Frangoulis, Jamie (Zach Klein) Frangoulis and David Frangoulis; Great Great nephews and nieces Armando Oviedo, Ariadne Frangoulis-Oviedo and Adric Frangoulis; and numerous other nephews, nieces and many friends. Not to forget her two favorite felines Sheldon and Furiosa.


Events will be set at a later date.

In Lieu of flowers memorials have been suggested to Papillion Manor Nursing Home.


Memorial Contribution