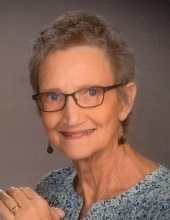 Obituary for Mary E. O'Riley (McMahon)
Mary Elizabeth (McMahon) O'Riley was born on October 5, 1952, in Perry Iowa to parents Jerry and Mary McMahon. Mary and her twin brother Jerry were the oldest of 7 children growing up in Omaha and belonging to Holy Name Parish. It was attending Holy Name High School that she met her beloved husband Greg whom she married on September 3, 1971. Over the years, Mary Liz, as she was known when she was younger, kept in contact with the gang and still gets together with her Holy Name girls.

Mary attended the X-Ray school at Bergan Mercy when upon graduating top of her class with honors, she continued to work for the next 45 years in various fields of the x-ray department. She was most notably remembered for her time in the mammography group; random strangers would come up and say, "you were my boob squisher!" Mary was one of the first Spirit of Mercy award winners at the hospital; even earning a lifesize picture of her on billboards around Omaha.

Mary and Greg raised their family of four children in Omaha while being active members of St. Bernadette Parish. Mary strongly believed in sharing her faith with everyone even if they weren't sure they needed it. From converting neighborhood kids to teaching CCD in the parish, she was always joyful about spreading God's love. Mary was an EMHC and spent many hours in Adoration over the years. She was a member of one of the original RENEW groups, responsible for faith formation. She formed a lasting bond with those wonderful ladies who joyfully and faithfully meet to this day.

Mary was a member of the Altar Society where she was honored as "Woman of the Year" in 2017. Her newest ministry involved joining the Legion of Mary where she continued to pray the rosary and spread God's word. Over the years, she was also inspirational in raising funds for A Woman's Touch Center through benefits, bottle drives and demonstrations on the sanctity of life, both the born and the unborn.

Being a member of the Consolation Ministry brought Mary true joy as she was able to offer comfort to those who had lost a loved one. She took being a 'Servant of God' to heart as she continued her faithful ministry right up until Jesus welcomed her home into his loving arms. Mary Elizabeth O'Riley passed away on the morning of November 23, 2019, surrounded by her loving family.

She was preceded in death by her grandmother Ann Murphy, father Jerome McMahon, brother Michael, and sister Ann.

Mary is survived by her husband Greg O'Riley; daughters Sara (Gregg) Bailey, Megan (Shae) O'Riley, Jessica Santone, and son Patrick (Kayla) O'Riley; grandchildren Zach, Hannah, and Ethan Bailey, Kade, Kallan, Blakely, and Knoxx O'Riley, Nicholas, Isabel, Vincent, and Olivia Santone, Kennedy, and McKinley O'Riley.

She is also survived by her mother Mary Catherine McMahon, aunt Roseann Andrews, twin brother Jerry (Xieguirong) McMahon, sister Christine Oxner, brother Dan (Doreen) McMahon, and sister Colleen (Kurt) Dannehl.


Previous Events
Visitation
St Bernadette Catholic Church
7600 S 42nd St
Omaha, NE 68147
VIGIL SERVICE at 7:00 PM
Funeral Service
St Bernadette Catholic Church
7600 S 42nd St
Omaha, NE 68147
PRIVATE FAMILY INTERMENT
Memorial Contribution
Or a Charity of your Choice
In Mary's Name. IN LIEU OF FLOWERS