Obituary for Thomas M. Cooney, Jr.
Thomas (Tom) Michael Cooney, Jr., husband, father, and grandfather, said goodbye to his family and peacefully drifted away to his Creator on 12 November 2020. Tom possessed the love of the land, determination in the face of obstacles, and warm hospitality that marked him as a true and proud son of Nebraska. Even before his birth, his parents set the example of a farmer's work ethic. His mother, despite being in her last trimester of pregnancy and in her 40's, still climbed up on the tractor to help with the harvest in the fall of 1935. When there was work to be done, they just did it, without excuses and regardless of the circumstances. He came into the world with the harvest on the 13th of November at the Cooney family homestead southwest of Overton, NE. Many years later, when Tom applied for a passport, he discovered that the State of Nebraska had his birthday as the 12th of November. He and his family had always celebrated his birthday on the 13th, so he asked his 90-year-old mother on which day he was born. She stated definitively that he was born on the 13th, and added, "I think I would know. I was there." The matriarch of the family had spoken, and that was the final word. His birthday would always be the 13th of November; the government records were clearly wrong.
Tom grew up on the farm, learning the values of hard work and fortitude in the face of adversity. Born during the Great Depression and the Dust Bowl, from an early age he watched his parents and siblings persist in their efforts to make a living off the land. He attended elementary school at the District 48 one-room schoolhouse. One memory of his childhood which he recalled vividly took place in 1945. His oldest sister, Madeline, had already graduated from high school and had met Bob, the love of her life. Before they could get married though, Bob shipped out to fight for his country and to free Europe from the fascist tyranny of Nazi Germany. At one point, Madeline stopped receiving any communication from Bob. Tom then recalled that one day, out of the blue, he came from school to find Bob sitting at the kitchen table. To the nine-year-old boy, this brave GI in his uniform, bearing the scares of the trauma of war, was the closest thing to a real-life superhero.
Tom attended Overton High School where he played quarterback on the six-man football team. After graduating in 1954, he helped his parents farm the Cooney homestead. In 1962, the District 48 schoolhouse down the road from the farm had a new schoolteacher, Sharon Stephenson. He knew that she was friends with his sister Patty, but not much else about her. Patty told Tom that her friend needed a new car, and Tom had one to sell. So, one day, after school dismissal, Tom stopped by to discuss business. Tom and Sharon fell in love and after a brief courtship, they married on 22 September 1962 at Holy Rosary Catholic Church in Overton, NE.
The couple eventually rented a farmhouse about a mile from the Cooney homestead. On 1 July 1963, they welcomed a son, Thomas Michael Cooney III, into their family. Tom continued to farm while Sharon taught school. When their little boy was still a toddler, Sharon convinced Tom to apply for a job with the Union Pacific Railroad. For the first few years of his employment, the UPRR sent him to various towns throughout Nebraska for 1 to 3-week stints performing various tasks from single-tracking trains to working depot dispatch. This job enabled Tom & Sharon to purchase 80 acres of the original farmstead from his aunts and uncle, and his work schedule with the UPRR afforded him the time to start raising his own crops. As a railroad employee, Tom received discounted train tickets, and the family took full advantage of this perk to travel all around the United States, from New York to Washington state. This love for travel and desire to see the country that they loved would stay with Tom and Sharon for the rest of their lives.
On 18 August 1974, they welcomed a daughter, Mary Kathryn (Cooney) Robinson into their family. That same year, Tom and Sharon completed work on their new home "in town." They had decided to move to nearby Lexington, NE so their son could attend Catholic school. Tom helped his son hone his athletic talents, and Tom III followed in his father's footsteps by becoming the quarterback of his high school football team. Even though they now lived in town and rented out their farmland, Tom's heart still yearned to till the soil and tend to the animals. He would frequently go out to the farm, especially during the planting and harvesting seasons. In town, he and Sharon cultivated a magnificent backyard garden with flowers, vegetables, and of course, corn. Since their house was on the easternmost edge of Lexington, stray cats often took shelter in their garden or the neighbor's wood pile. Mary and Tom III fed the cats and tamed most of them. One particularly snowy winter, the cats, who were still part feral, took shelter from the storm in the street drain. When the snowplow came by, it blocked the drain entrance with snow, trapping the cats. After every blizzard that year, Tom scooped his driveway and then dug out the street drain. Having watched Tom do this a few times, his neighbor asked him what on earth he was doing. Tom took him to the drain, shoveled away the snow, and then told Mary to call her kitties. Out of the sewer, 3 cats bolted for the house. They may not have been the sheep or cows that he was used to raising, but he nevertheless took care of these animals as God's creation.
In 1989, the Union Pacific Railroad transferred Tom to St. Louis, MO and then the following year to Omaha, NE. His son was already married and starting a family of his own, but Sharon and Mary moved with Tom as he transitioned from working on the tracks to a desk job. He and Sharon stayed in Omaha for the rest of their lives, but the farm was never far from his mind. They often travelled to central Nebraska to see the yearly agricultural progress and oversee improvements like the addition of a new well. One of Tom's proudest moment was the celebration of the Cooney homestead's 100th anniversary. Having grown up during times of hardship watching his parents' resolve, he appreciated keenly the legacy that his forebearers had bequeathed to him. The farm was more than just land to him, it was the living connection that bound the Cooneys together over the generations.
Tom truly had the Irish gift of gab. He could talk to anyone, anywhere, about anything. Whether in the coffee shop in Lexington, the office building in downtown Omaha, or a hotel lobby in Rome, Italy, he would strike up a conversation with someone. People who met him knew that they had found a friend in this plain-talking, jovial man. At the same time, he was a man of strong convictions and a firm belief in his God and his Catholic Faith. He and Sharon spread their love for their Savior in all the places they lived. At their parish in Omaha, one usually found Tom greeting people and making them feel welcome. Tom & Sharon became the parish parents to new families and the devoted friends to long-time parishioners. Tom radiated the spiritual gift of hospitality to those who met him.
Tom is survived by his son, Thomas Michael Cooney III (and wife Deb), his daughter, Mary Kathryn (Cooney) Robinson (and husband Michael), his grandsons Ryan and J. J. Cooney and Eoghan Robinson, his granddaughters, Madeleine and Melisende Robinson, his sister Rita Hinds (husband John, deceased), and his nieces and nephews. Many loved ones preceded him in death including his father and mother, Thomas and Margaret Cooney, his brothers Richard and Eugene Cooney (and wife Shirley), and his sisters Madeline Winter (and husband Bob), Dorothy Nissen (and husband Len), and Patty Jandebeur (and husband Dave), and his grandparents, aunts, and uncles. He had a strong devotion for his family and honored the memories of those who died before him. May he now enjoy an eternity of Christmas gatherings and after-church coffee and rolls surrounded by his loved ones.
We, his family, are grief-stricken by the swift passing of our father so soon after our mother's death. The pitiless coronavirus may have claimed him as its victim, but it cannot destroy the legacy of faith, family, and love of the land that our father instilled in us. Dad, we are so grateful for the life you and Mom gave us. We will always love you. When it is our time, Dad, send the train to pick us up and take us home to you and Mom.

To send flowers or plant a tree in memory of Thomas M. Cooney, Jr., visit the Tribute Store.
Previous Events
Visitation
Bethany Funeral Home
8201 Harrison Street
La Vista, NE 68128
Followed by a Vigil Service; for those planning to attend the visitation and vigil service masks are required for attendance and all CDC guidelines and social distancing regulations will be followed. Those unable to attend can view the service via the Bethany Funeral Home Livestream.
Mass of Christian Burial
Immaculate Conception Catholic Church
2708 So. 24th St.
Omaha, NE. 68108
For those planning to attend the Mass of Christian Burial masks will be required for attendance and all CDC guidelines and social distancing regulations will be followed. Those unable to attend can view the Mass via the Bethany Funeral Home Livestream.
Cemetery Details
Location
St. Ann's Catholic Cemetery
Rd. 345
Lexington , NE. 68850
Memorial Contribution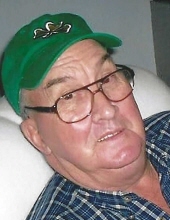 Thank you for sharing your
memory of Thomas
Provide comfort for the family by sending flowers or planting a tree in memory of Thomas M. Cooney, Jr..
No thanks, please don't show me this again.